Friendship bracelets, but adulting
Welcome to the spark spot - our permanent jewelry hub. Are you ready for timeless, seamless and cute AF jewelry? I thought so.
Want to make the most of your next bachelorette party or bridal shower? Now you can drink wine while getting adult friendship bracelets - adulthood at its finest.
Contact us about booking a private party or for our mobile services.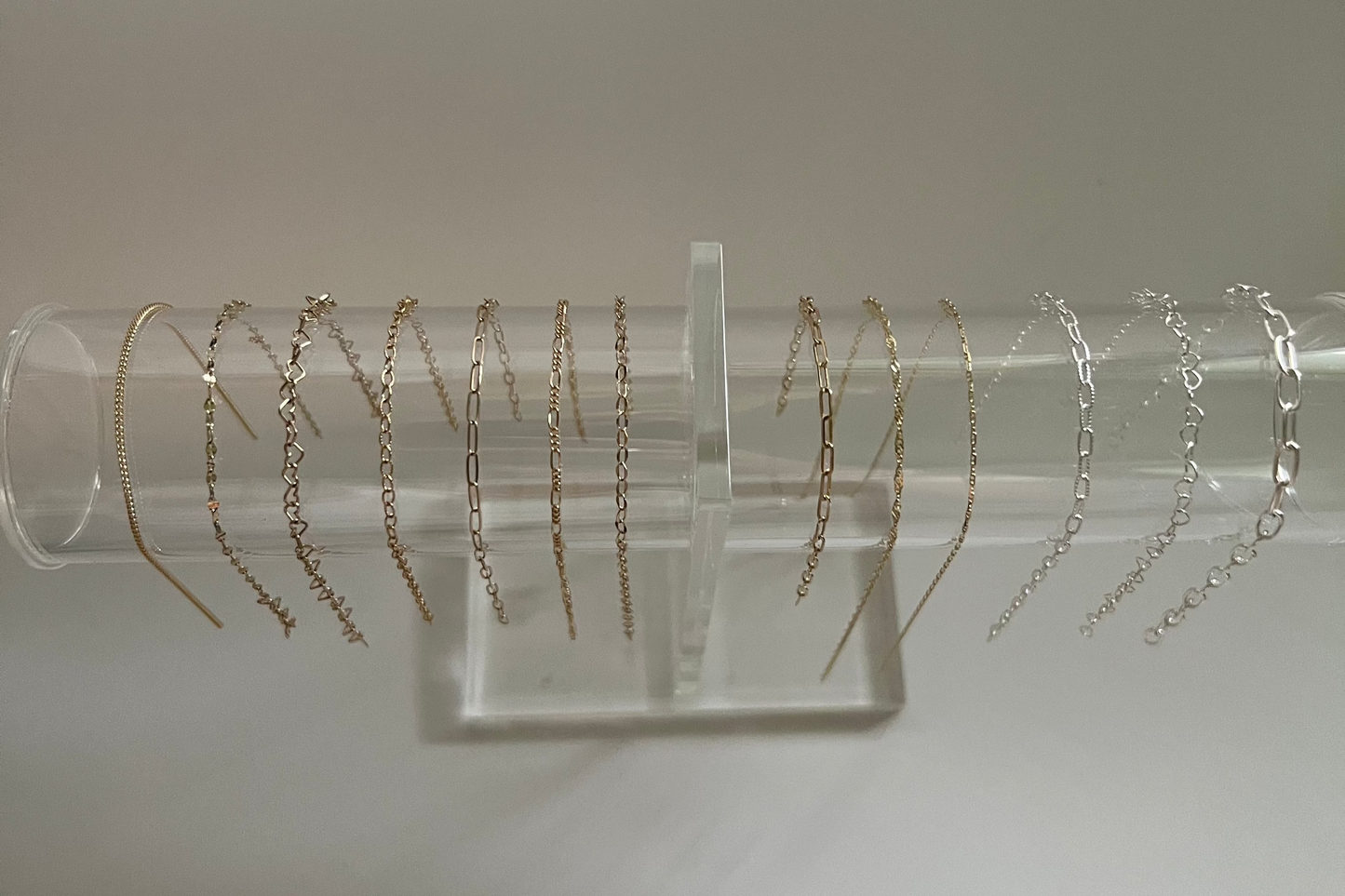 Chain options & pricing
Our chain options are always changing to bring you the latest styles and fresh looks. If you are looking for something particular, or to see what we are currently offering, send us a message!
Cost is dependant on the chain selected. The service cost is built into the price of the chain. Please remember, these are high quality solid gold metals meant to last forever.
Chain options may differ based on availability.
PRICING
Sterling silver: $70-90
10k yellow gold: $140-$160
14k yellow gold: $175-$220
If your bracelet needs rewelding, this is free of charge for the first three months or for any medical reasons.
Let's get the tea
My bracelet broke! What do I do?

Don't sweat it! If your bracelet breaks within 3 months of having it done, send us a message for a free re-weld.

If it breaks after 3 months, we charge a $15 rewelding fee.
How do I clean my bracelet?

The easiest way to keep your bracelet clean is to avoid harsh chemicals that could tarnish the material. But as they're real gold or sterling silver, using Dawn dish soap, a gentle scrub should restore its shine!
What if I need it removed?

We are happy to remove your bracelet and re-weld at no cost for any medical reasons. If we're not around, gently cut the jump ring used to attach your bracelet and save the chain for re-welding.

Do not cut the bracelet itself, but the ring that can easily be replaced.
Does it have to be permanent?

Not ready for that kind of commitment? No problem. We are happy to build you a custom bracelet and add a clasp.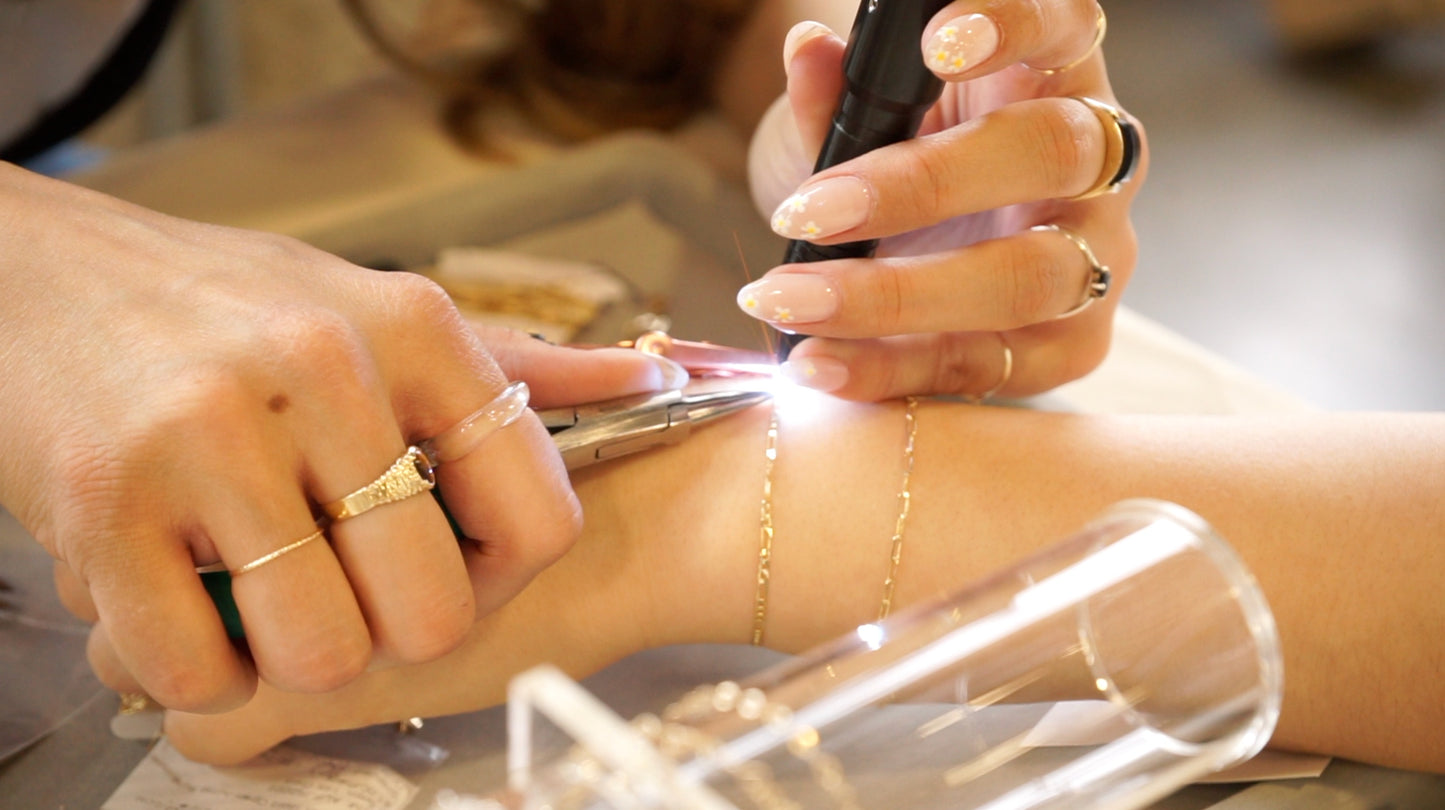 What is permanent jewelry?
Using a micro welder, a quick and painless flash of light will weld the bracelet to your wrist without a clasp. But don't worry, you can easily have it removed and rewelded should you need to.
What materials to you offer?
When I say something is permanent, I mean it. That is why I am only offering 10k or 14k solid gold and sterling silver options for my permanent jewelry services.
While gold filled may look like a tempting pricepoint, the metal will inevitably tarnish and is not a permanent option.
Testimonials
Love my permanent bracelet! It's so dainty and easy to layer with all of my other jewellery pieces. Would definitely get another one to add to my stack :)
Kelly B
Had a lovely experience with Summar from Gldn Grl. The selection of permanent bracelets to choose from were simple and great, Summar made the entire process super lovely. The whole experience is very quick- the zap takes probably 3 seconds and the result is dainty and beautiful!! I've been wearing my bracelet for over a month now and I'm absolutely in love with it! :)
Sheril B
Working with Summar was wonderful! Not only is she talented at her work, but she's kind and lovely to collaborate with. It was so convenient to host a permanent jewelry event in my house. We had a lot of fun choosing the chains for our bracelets, and we're so happy with the results! I'll be a repeat customer and am already planning my next event. Thank you!!! 
Lauren M